標題: 「大鵰」全裸露出 【阿根廷俊男】Joaquin Ferreira裸露帥肌! [打印本頁]

---
作者: 資三 時間: 2015-9-2 01:01 標題: 「大鵰」全裸露出 【阿根廷俊男】Joaquin Ferreira裸露帥肌!

【阿根廷俊男】Joaquin Ferreira《Club de Cuervos》露出大陰莖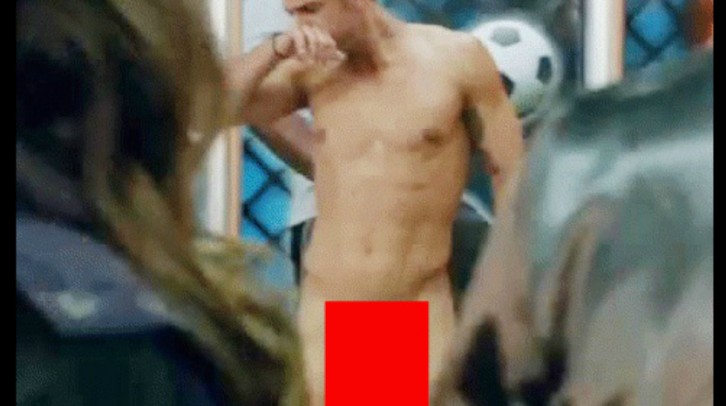 電影《Club de Cuervos》流岀【阿根廷俊男】Joaquin Ferreira全裸露出「大黑鵰」,片段中的Joaquin Ferreira在男更衣室場景內,正面展露性器官,迅即成為網上熱議。網民都大讚:沒勃起就這樣好大一根啊!




【阿根廷俊男】Joaquin Ferreira裸體鏡頭展現他一身大肌肌,帥氣肌肉、人魚線,成為新聞焦點;他的Instagram更成為網民的熱搜對象。




Joaquin Ferreira還在youtube建立個人頻道,放送私生活影片。

[youtube]YqeHZERlKbE[/youtube]

※溫馨提示:抽煙、菸毒、酗酒…危害身心健康,易成瘾!切莫嘗試!
---
作者: 資三 時間: 2015-9-2 01:02

Joaquín Ferreira de Club de Cuervos, conmociona internet ¡con sus enormes atributos!

12 de Agosto del 2015Por @TVNotasmx / Foto: Facebook y Especial

Apareció desnudo y mostrando su 'gran' talento.



Joaquín Ferreira deleitó en internet por su gran miembro.

La nueva serie de Netflix, 'Club de cuervos' promete ser todo un éxito en México y en el mundo, pues luego de ver el gran talento que tiene el actor Joaquín Ferreira, seguramente esta producción se convertirá en las favoritas del público conocedor.

Y es que el estreno de la serie dejó ansiosas a muchas espectadoras, pues uno de los protagonistas apareció totalmente desnudo; pero lo impactante del asunto es que el actor es portador de un miembro de gran tamaño, algo que no podía pasar desapercibido y ser la sensación del momento en las redes sociales y de todo internet.

Bajo la dirección de Gaz Alazraki, Joaquín Ferreira da vida al 'Potro', quien bien hace alarde del nombre de su personaje; compartirá escenas con Luis Gerardo Méndez, Mariana Treviño, Carlos Bardem, entre otros, en una historia que centra su atención en la temática del futbol y ahora en los grandes e impresionantes atributos del actor.


http://www.tvnotas.com.mx/2015/0 ... ormes-atributos.php
---
作者: 資三 時間: 2015-9-2 01:03

Meet Netflix's Next Latin Star: Joaquin Ferreira



The Internet loves a man who is comfortable showing every side of himself.

BY DENNIS HINZMANN

AUGUST 14 2015 4:39 PM EDT

Photo: Instagram

Now that Netflix has evolved into one of the biggest competitors in television, with wildly popular original series, films, and plenty of subscribers, they've been taking steps in a more HBO-esque direction. See: full frontals.

While HBO has been jokingly, and sometimes seriously criticized recently for its lack of equal-opportunity nudity, Netflix has been casually cruising by with internet favorites like Sense8's orgy and full frontal male scenes, and it doesn't look like they'll be losing their stride anytime soon.

That's where Joaquin Ferreira, one of the stars of Club de Cuervos, Netflix's first Spanish-language original series, comes in. Ferreira, a former soccer and rugby player from Argentina, appropriate plays a soccer player in the show, that focuses on a family-owned soccer club and the ensuing dispute about ownership after the original owner dies.

Of course, as with anything worth GIF'ing, a Tumblr user did everyone a favor by giving us and endless loop of Ferreira in all his natural glory. NSFW, in most places at least.

You can also see him a bit more concealed on his Instagram, if that's more your speed.


http://www.out.com/popnography/2 ... aquin-ferreira-nsfw
---
作者: 資三 時間: 2015-9-2 01:03

El momento del que todos están hablando

de "Club de Cuervos"

Aracely Garza @Quien

Viernes 14 de agosto de 2015 a las 16:15

Si bien hay otros personajes con mayor protagonismo, es el desnudo de Joaquín Ferreira, quien interpreta al jugador "El Potro" el que está causando sensación en las redes sociales.



Cuando Chava Iglesias trata de impresionar a la repoertera que interpreta Sofía Sisniega, el personaje del actor Joaquín Ferreira decide mostrarse completamente al desnudo. Foto:Netflix


http://www.quien.com/espectaculo ... -de-club-de-cuervos
---
作者: 資三 時間: 2015-9-2 01:04

Joaquín Ferreira's Penis Is the Big Draw for Netflix's 'Club de Cuervos'

One star's nude scenes reveal there's a lot under the soccer shorts in Netflix's new Spanish-language series

AUGUST 13, 2015 - BY DOMINIC PRESTON

Netflix has just debuted its latest original series, Club de Cuervos, an entirely Spanish-language soccer drama set in Mexico. There's already one part of the show that's gotten fans buzzing, and it belongs to Argentinian actor Joaquín Ferreira.

Created by Gaz Alazraki and Michael Lam, Club de Cuervos centers on a family feud between billionaire siblings over the family-owned soccer team, Los Cuervos ('The Crows').

While Netflix is keen to emphasize the show's family drama and laugh-out-loud comedy, some fans have found a different draw in Ferreira, whose naked scenes have revealed that acting talent isn't the only thing he's well-endowed with.

Luis Gerardo Méndez, the series' star and producer, recalled the moment Ferreira first auditioned to play 'El Potro': "It was very clear that his character had to be the sex symbol that would have all the girls and gay boys attached to the TV screen, and when he walked into the room, he got it."

Head to Latin Times for the (very NSFW!) photos to find out what's gotten everyone so excited.


https://www.frontiersmedia.com/f ... xs-club-de-cuervos/




---